Franchise Mode 2/29/12: Lebron's All Star Debacle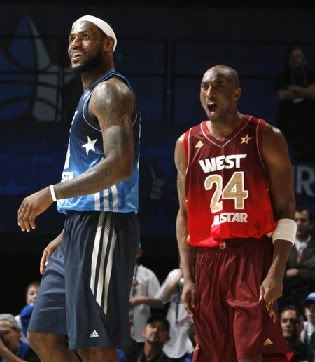 The NBA's All-Star weekend is come and gone.
The regular season is back in full wing..all the gold-diggers have gone back to their hometowns (Las Vegas/Los Angeles) with dreams of child support dancing in their heads…and we now only have the video highlight to remind us of those brief moments when Arne-sanity was running wild during the Celebrity Game.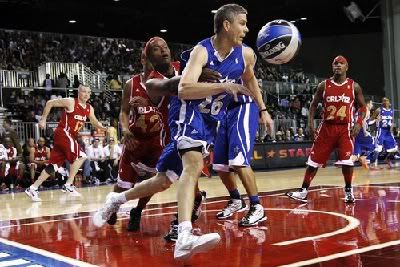 I would start Arne Duncan over Matt Barnes or Ron Artest right now.
But there is still a story from the weekend that it lingering in the minds of basketball fans. And no, myopic Lakers fans, it's not whether or not Dwyane Wade should be deported for breaking Kobe Bryant's nose and giving him a concussion with a hard foul during Sunday's game. These are the best players in the world. We WANT them to compete. Kobe didn't cry and neither should you.
The story is this: What the Hell is Wrong With Lebron James?
For those of you not following along, Lebron James had what is quickly becoming a typical Lebron James performance in a big-game situation: he scored 36 points, 7 assists and 6 rebounds to nearly lead the East back from a 21-point second-half deficit. He tied an All-Star game record by making 6 three point shots. He was obviously the only reason that the game became worth watching in the closing minutes; without Lebron a lot more people would've been forced to tune into Billy Crystal's opening number at the Oscars (and for that, America, we owe him a debt of gratitude)
But then…with the game nearly in hand..with the opportunity there to go down in history alongside Wilt Chamberlain in '62, Magic Johnson in '92, or Mariah Carey's dress in 2003…Lebron did the one thing that makes even his most ardent supporters absolutely crazy: he took a pass.
Two of them in fact.
In the first sequence, with the East down by two, Lebron James recovered an offensive rebound off a missed Deron Williams three-pointer. Lebron was near the top of the key, being defended by the hyper-competitive Kobe Bryant. Who had continued to play despite the broken beak. Who was talking trash with everyone on the East bench and fans at courtside. Bryant had Kevin Durant behind him as well. So LeBron could have a) used his superhuman strength and athleticism to try to split the double team and go to the rack and score a basket or get himself to the free-throw line or b) take another three point shot since – as I mentioned – he had ALREADY MADE SIX OF THEM. Instead, he forced a pass into the corner that was picked off, and the game was seemingly over.
Kobe, in apparent disbelief that a player as good as LeBron wouldn't shoot from almost half court with two guys on him – because, let's face it, Kobe has taken more difficult shots in more ridiculous situations – immediately started running Lebron down and letting him know that he needed to be the one shooting the ball. He didn't quite say, "What's the matter, McFly? Chicken?" but it was close.

80s Villains are the best Villains, butthead!
As luck would have it, LeBron would get another chance!
After Blake Griffin hit only one of two free throws, the East found themselves down three, with a chance to send the game to overtime. So this time, would LeBron step up to Kobe's challenge? Would he do what every other insanely competitive, relentlessly driven, star in the modern NBA era (think Kobe, MJ, Bird…hell, even Reggie Miller or Robert Horry) would do in this situtation?
WOULD HE SHOOT????
Nope! He'd… inbound the pass.
INBOUND THE PASS???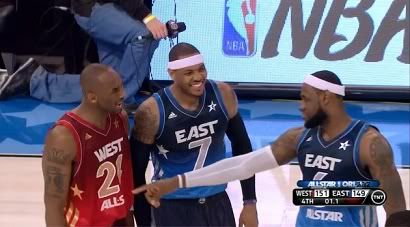 "Have you watched me in the fourth quarter? I've taken way worse shots than THAT!"
You just hit a record breaking amount of three's and with the game on the line you allow your teammate take the shot to determine the outcome? LeBron deferred to Dwyane Wade, Wade missed his three-point attempt, and the game ended.
Kobe wrapped up his generally Cobra Kai-esque evening by continuing to harass Lebron about his shot choice. Reports vary, but those at court side have said they clearly heard Kobe Bryant daring LeBron James to "Shoot the fu*king ball." He simply could not believe that the very first instinct of a guy with that much talent was no to simply "shoot the fu*king ball."
And that, in a nutshell, is the problem. No one can figure out why Lebron James hesitates in those situations. He is arguably the most physically gifted athlete anyone has ever seen in the NBA. He does things with such ease and is still explosive and nearly impossible to stop. Whenever there has been someone in the league with this much ability in the past, they have also appeared with a desire that matches all those physical gifts. I supposed some people like to recall Wilt Chamberlain and/or Shaquille O'Neal when they talk about "NBA stars who didn't quite live up to their potential"
But Wilt had multiple rings. And Shaq also has multiple rings, and was an absolute force of nature when the Lakers needed him most – during the NBA Finals.
Its not just that Lebron has come up short in the jewelry category. It's that in those biggest moments – whether it was for the Cavs or the Heat – Lebron shrinks away. And its difficult to say he chokes, because the term "choke" implies he actually made an attempt to affect the outcome of the game. Lebron is there. I mean..he played every game of the Finals against Dallas last year. But he does not push the action, he doesn't demand the ball, he doesn't force the issue…he doesn't..do…anything.
You get the feeling that Lebron James would be legitimately satisfied with winning the title even if he scored no points, had no assists, no rebounds, and generally didn't do much of anything. If the Miami Heat were to win a title this year while Lebron averaged a "triple-nothing," the King would be ok with that. He wants to succeed…but he is so scared of failure that it's more important to him to avoid that risk that might be necessary for him to do so.
Because, the NBA All-Star game is really just an exhibition. It doesn't matter. If Lebron had missed the shot, it would've been talked about. But we also would've spent time talking about the fact that he was the only reason his team was in the game in the first place. But the fact that he avoided the risk – especially that he avoided that risk in a game was meaningless – makes this a story. It makes us go back to what we have been trying to figure out all these years.
What the hell is wrong with you?
Take the fu*king shot.
Til next time…
Related Posts
Comments
comments