NFL Combine: What to Watch For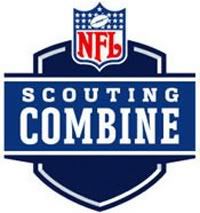 If you non-NFL fans are bewildered because the real Americans in your office are wandering about for the next few days using inexplicable terms like "40 times" and "the shuttle drill"  and speaking longingly about the physical measurements of men in their mid-20′s….don't you worry. And don't contact the HR department. Because there's nothing strange happening: it's just NFL Combine Season!
Every year, the top prospects from college football programs around the country flock to Indianapolis to be prodded, poked, measured, tested, re-tested, re-measured, interviewed and psychologically analyzed as NFL terms determine who they will select in the NFL Draft.  And when you realize that picking a potential star late in the draft  or – more likely – spending an early pick on a guy you thought was a stud but who turns out to be totally useless can turn the fortunes of an entire franchise, this becomes serious business. Is it a bit ridiculous that people way breathlessly to find out if their favorite player manages to run a faster than expected wind sprint? Or that you can go on-line and watch live coverage of grown men standing around in their underwear having their arm length measured? Is it an automatic sign of success that a player will be able to bench-press 300 lbs 27 times instead of 24 times in a row?
The answers: Yes, Yes, and No.
But whether the process makes sense or not doesn't change the that hardcore NFL fans care desperately about what is going to take place over the next few days: the first crop of NFL draft prospects are arriving on Wednesday, but we won't see any actual workouts until Saturday morning. Players will arrive grouped by position — offensive linemen, tight ends and special teams on Wednesday — and they'll be tested medically and mentally in their first couple of days in Indy before the workouts start.
So let's take a look at the top 5 stories headed into this weekend. This way if you work with, live with, or (Vishnu help you) are married to one of these football nerds, maybe you'll be able to keep up: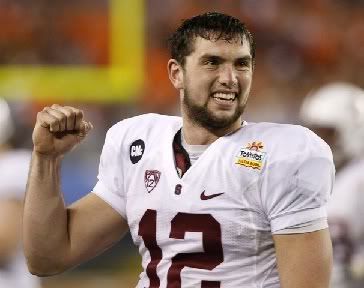 The Andrew Luck Story
This is almost not fair because Luck is not actually expected to do any of the drills at the combine. He will be measured and interviewed, but there has not been any specific announcement by his management team on whether or not he will throw an actual football over the weekend. That is probably a non-story because Andrew Luck was expected to be taken with the #1 pick this year since he announced that he wouldn't be making himself eligible for the draft last year. So unless he showed up and started throwing the ball and his arm fell off like a Monty Python skit, whether or not he participated in drills wasn't going to make a difference in his draft value.
However, due to the fact that Andrew Luck getting drafted by the Colts ties into the continuing saga of Peyton Manning, expect there to be a tremendous amount of attention paid to his every move and especially to any interaction between Luck and Colts management. The over-under on "stupidly inflammatory tweets" by Colts owner Jim Irsay has to be around 4 or 5 before the weekend is over.
What about RG3?
Robert Griffin III – or RG3 as the cool kids like to call him – won the Heisman Trophy this past year as the best player in college football. He is talented, athletic, charismatic, strong-armed, smart and – by all accounts – one of the nicest most down-to-earth kids you would ever meet. Like Tim Tebow, with talent. So after Luck is taken first, the big story will be: Where does RG3 end up? The St. Louis Rams have the second pick, but they are presumably set at the QB position. So is Minnesota at number three. Cleveland seems like the likely destination at 4, but what happens if a QB-starved team like Miami or Washington decide to step up? Would Cleveland have to bid to move up on their own to get his services? There's a huge drop-off in terms of talent after the top two QBs, so once Luck is gone, the fight to acquire Rg3 will be a slobberknocker that will effect the future of several franchises for years to come.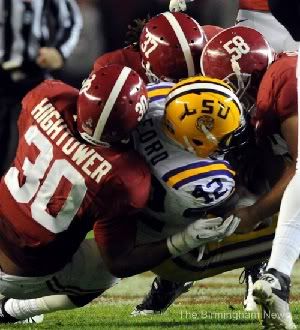 The influence of the SEC
The SEC is the best conference in college football. Just ask SEC fans (give them a second to answer; they have to spit out their chewing tobacco). And that can definitely be seen in the NFL draft. Depending on what draft projection you follow (Walterfootball ftw!) you can expect anywhere from 10 to 16 of the first round picks in this year to be used on players in the SEC. 16? That would be half…the idea that half the players selected in the first round could come from a single football conference would be a huge story.
So keep an eye out on the work-outs of players from the SEC that are looking to move up the draft board or cement their statues as first round talents.
Another thing to watch for: the record for most players selected in the first round from a single college is 6 (2004 Miami Hurricanes). That record might be pushed by this year's Alabama team. So keep an eye out for the work-out numbers of guys like Courtney Upshaw, Dont'a Hightower, and Mark Barron as they try to put in performances that will get them drafted.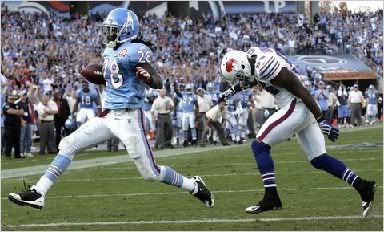 Who is Going to Blow Your Mind?
Every year, some relatively unknown kid shows up at the combine and does something incredible athletically that gets him noticed by scouts and taken 2-3 rounds sooner than was expected based on their on-field production. Some years, it's an incredible time in the 40-yard dash. Sometimes it lifting an incredible amount of weight. Sometimes it's a surprising vertical leap. Whatever the case, THIS ALWAYS HAPPENS.
As an NFL fa, we know that those incredible numbers don't always translate into success in an actual game. For every Chris Johnson and Vernon Davis, there's a Matt Jones, or Martellus Bennet (Who are those guys? you ask. Exactly.) But that doesn't matter. Teams like measurables. So at some point this weekend, some kid from some mysterious college will break some record related to running around an orange cone ..and that kid WILL be richly rewarded. Who it will be is going to end up as the one of the big stories come Monday.
Are These Guys Screwed Up Because They're Young, or Because They're Screwed Up?
This is another annual rite of the combine: who's stock is falling because there are some "character concerns" that have come up some time between the time their season ended and now? Keep a eye out for these notable knuckleheads (among other miscreants)…
-Vontaze Burfict came out of the high school ranks as a nationally acclaimed top-10 prospect before enrolling at Arizona St. Since then, he's gotten a reputation for being lazy and not listening to his coaches. The interview sessions with GMs, his attitude and his knowledge of the game will go a long way in determining just how high (or low) the athletic specimen will go on draft day.
-Janoris Jenkins is coming off a stellar season playing CB for North Alabama. Unfortunately he preceded that by being expelled from Florida university after being arrested an uncanny three times in a 23 month span. He has managed to keep his nose clean since then, but this week will be huge for him, as he attempts to prove that he's worth the first round selection his talent seems to indicate.
-Alabama CB Dre Kirkpatrick was arrested in January for marijuana possession. Charges were dropped later, but the fact that the arrest came so soon after his season ended has to sit poorly with many GMs.
-Former Oregon CB Cliff Harris (what's up with CBs this year?) was expelled after a series of incidents related to traffic incidents (speeding, reckless driving, suspended license, driving while wearing one of those awful Nike alternate jersies, etc). Before his career fell apart, he was a star as a sophomore, breaking up 23 passes and averaging 18.8 yards per punt return. Will scouts be willing to take a chance on his ability to be a game-breaker despite his checkered past? His performance during the combine and his interviews will go a long way towards answering that.
So there you have it: those are the stories to watch for this weekend. Keep an eye on this space as we break down the combine results, hopefully answer the questions we asked here, and in general help you figure out how to relate to that hopeless football nerd in your life.
-J.Z.
Related Posts
Comments
comments