Randy Moss trying to comeback…and he ALREADY has beef with ex-teammate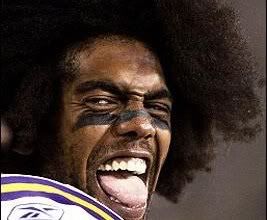 On Monday morning, Randy Moss – the notorious-for-his-talent-and-his-bad-attitude wide receiver – announced that he had decided to return to the NFL.
This caused a great deal of skepticism. He is, after all, 35 years old and nearly two years removed from his last professional football game. And he didn't exactly leave the game on the best of terms: his problems with New England's offensive coordinator caused him to be traded to the Minnesota Vikings. That trade was a disaster, as not only was Moss released a few weeks later, but the trade itself was one of the primary reasons then-coach Brad Childress was fired. Moss closed out that 2010 season in Tennessee, where he started just four of eight games and caught only six passes for 80 yards.
Now, let's not forget, that over the course of his career Randy Moss has put up the kind of numbers that will end up with him in the Hall of fame someday. But he has also had numerous problems related to his attitude and -specifically – to the fact the he doesn't exactly give his best when things are going poorly. To paraphrase: When the going gets tough, Randy Moss runs lazy routes and mopes on the sideline.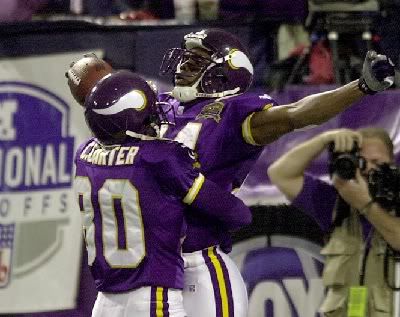 Among the skeptics: former teammate WR Cris Carter. Carter – who is known these days as one of those guys who keeps getting inexplicably snubbed by the aforementioned Hall of Fame – brought up the issue of "effort" when he was talking to ESPN's Mike & Mike in the Morning on Tuesday to discuss Moss' potential return. HE started by saying that he thought Moss was still physically capable of being effective in the NFL, but:
The one thing you have to address with Randy Moss is not a conditioning thing. It's not an age thing. It needs to be addressed. I believe it's the elephant in the room. It's that thing called quit. And Randy, not like any other superstar I've met, he has more quit in him than any of those other players. But Randy, when things don't go well, like no other player I've ever been around or associated with, he has a quit mechanism in him that's huge. That needs to be addressed before he signs with any team.
Keep in mind that Carter and Moss played together for several years, including the first several years of Moss' career when he was shattering NFL receiving records. Carter was viewed as something of a mentor and 'big brother to Moss.' So for him to use the word "quit" about 45 times in discussing randy for three minutes on the radio says a lot.
Moss replied shortly after these comments came out by going to his Twitter (@r81m) to offer his response to Carter's criticism.
@CrisCarter80 its sad how u stroked ur own ego when u were suppose to b my mentor! then u wonder why karma bites u in the ass! #goodlukwithhof
Low blow bringing up the Hall…but maybe Cris deserved it? Carter has a job to do when he analyzes football news for the Mother Ship, but did he have to call out a Moss in such a personal manner? And will this be extra motivation for Randy going forward?
Til next time….
Related Posts
Comments
comments